ASHRAE LEARNING INSTITUTE AND THE ASHRAE FOUNDATION
Today's environmental issues demand highly skilled engineers who understand the new technologies revolutionizing the HVAC&R industry. They must be equipped to apply the sound engineering practices and principles that have evolved over the past 50 years. The ASHRAE Learning Institute (ALI) addresses the growing educational needs of the HVAC&R industry.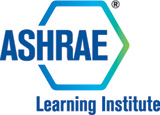 The ASHRAE Learning Institute is not a building or a structure of bricks and mortar. Rather, ALI is built upon an educational and training foundation laid by the HVAC&R industry's leading educators and practitioners. In order to meet the needs of today's engineer, the Institute draws upon the worldwide resources of ASHRAE, the industry's source for research, standards and reference publications.

The ASHRAE Learning Institute uses advanced information technologies, along with traditional instructor-based and self-directed studies, to reshape the process by which ASHRAE members and young graduates keep pace with the engineering demands of the 21st Century.
How the Foundation Helps ALI
Each year the ASHRAE Foundation provides support to underwrite the educational offerings of ALI through an endowed fund set aside for the benefit of ALI. This endowed fund is available to support ALI in perpetuity. Unfortunately, the demand for continuing education for the profession continues to grow.
Foundation funds made it possible for ALI to develop an online learning module. This platform allows engineers to stay current while working around their schedule and needs. The information is available whenever needed and wherever there is access to the internet.
The annual distribution from the Foundation to ALI does not cover all of the costs of ALI programming. ALI must still charge tuition to cover the costs of preparation of materials and course instructors.
This is where you come in. A gift to the Foundation to support ALI helps underwrite the costs of providing cutting edge information to engineers in the field. Plus, your gift is added to those of others to build an endowment that will sustain HVAC&R education well into the future.
If you would like to join the Foundation in educating today's engineers to meet the challenges of modern engineering, consider a gift to the ASHRAE Foundation to support the ASHRAE Learning Institute.