The Value of Chapter Scholarships: In the Words of a Chapter President

In the spring of 2014 ASHRAE's New Jersey Chapter decided to transfer their $60,000 endowed scholarship funds to the ASHRAE Foundation. The ASHRAE Foundation will take over investment management of the funds and ASHRAE's Scholarship Trustees will manage selection of scholarship recipients. The scholarship selection criteria, established by the New Jersey Chapter, will award $3,000 a year to an engineering student attending a qualified university within the geographic boundaries of the New Jersey chapter of ASHRAE.
Chapter President Scott Smith shared the reasons his chapter chose to have ASHRAE Foundation and ASHRAE's Scholarship Trustees take over management and awarding of their chapter scholarship. Scott reported that his chapter had successfully raised contributions for a scholarship but management of the funds proved to be a challenge. Managing their scholarship investments to produce meaningful returns with low risk was difficult.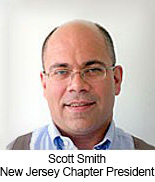 The problem was compounded because chapter leadership positions regularly change. The chapter was finding that maintaining a consistent, steady investment strategy that properly balances risk and return in the long run was nearly impossible. The ASHRAE Foundation provided a wonderful opportunity for acceptable level of return with low risk.
At the end of 2013 ASHRAE Foundation had $10,000,000 of endowed funds under management. Investment of those assets is overseen by full time professional money managers. The Foundation's money managers strike a balance between competitive returns and long term principal growth.
The New Jersey Chapter will receive regular reports on the financial performance of its scholarship. Each year, the Foundation will make a distribution to a deserving student selected by the ASHRAE Scholarship Trustees.
Any chapter that has accumulated at least $60,000 in funds set aside for scholarship awards can use the professional investment resources of the Foundation and the careful oversight of selection of deserving scholarship recipients.
The process is simple. If your chapter is interested in adding your scholarship assets to the Foundation, contact us for more information. We would negotiate an agreement to incorporate your chapter's scholarship selection criteria were honored. Your chapter would transfer your scholarship assets transferred to the Foundation. The ASHRAE Scholarship Trustees would select a deserving student for your scholarship.
Some chapters want to use ASHRAE's professional investment advisors but want to retain control of the selection of scholarship recipients. For a minimum of $30,000 the Foundation will invest a chapter's scholarship assets. The chapter can select the student recipients and the Foundation will make annual distributions from the chapter's fund to the student.